The United States is a significant military and economic power in the world. People worldwide come to the United States in search of the opportunity and prosperity it represents. They hope to establish themselves professionally and socially in the country. But although many individuals want employment opportunities in the United States, finding one is difficult and takes time. Immigrants must go through a lengthy process to gain legal employment in this nation. A US employer's sponsorship is a critical first step. This post will go into the specifics and background of U.S. employment visa sponsorship.
What is Visa Sponsorship?
Visa Sponsorship represents a set of documents that declare and ensure a person's right to work in the United States. Ideally, if you wanted to go to the U.S., you would need to find employment, and the business would have to be open to hiring a foreign employee for the position.

It would be best if you acquired employment before you may travel to the United States to work. The employer should be open to taking on a non-US citizen. You must disclose to the employer that you are not an American citizen and a Legal Permanent Resident (LPR). The employer agrees to sponsor you if they know this and still want to recruit you.
It means the employer would've been aware that you're neither a U.S. citizen nor a Legal Permanent Resident. They would need to guarantee the U.S. Visa department that you'll soon be a legal worker with a minimum income. The company agrees to help someone get a visa and sends the necessary paperwork to the USCIS. It is called visa sponsorship.
How To Sponsor an Employee For A Work Visa?
Acknweodlge the following steps to sponsor an employee for a work visa:
Ensure the position qualifies as a potential specialty occupation. 
Enlist the Payment for the position
Notify U.S Workforce
Submit Labor Condition Application to DOL for certification. 
Register with USCIS for Annual H-1B Lottery
Wait for Lottery selection results
Submit a Form I-129 to USCIS 
Instruct the prospective worker to apply for visas or a potential admission.
It might be challenging to sponsor a visa for just a foreign worker since many visa applications need to be submitted with dozens of pages of supporting documents. To make sure your employee is permitted to enter the nation, you must follow the necessary processes if you want to sponsor a foreign worker. A bachelor's degree in a particular discipline, like engineering, medicine, or law, should be specified in the job description for your opening. The role must call for someone with specific education, background, or training. "The successful applicant must have a degree that is equivalent to or higher than the corresponding U.S. degree."
Any office of the Wage and Hour Division of the United States Department of Labor may receive complaints claiming misrepresentation of significant facts in the labor condition application and failure to comply with the provisions of the labor condition application. Before submitting an LCA, employers must give U.S. employees 30 days' notice. A union representative for the specific field in which your position is vacant must receive notice. It would help if you displayed physical notifications in public areas of your place of employment. Electronic notifications must be sent to workers through email or posted on a website notice board. Ten days are required for posting the notification.
Form I-129, which asks for approval to recruit a non-immigrant worker, must be filled out and submitted by employers. You must deliver forms to the California Service Center (CSC), Nebraska Service Center (NSC), or Texas Service Center(TSC). It will send you a Form I-797 Notice of Action if your application is accepted. The foreign worker has to bring Form I-797 to the American consulate or embassy in their nation. It will enable them to request authorization to enter the United States.
What is Visa Sponsorship Letter?
Contrary to common opinion, a letter is not exactly what a visa sponsorship is. Visa Sponsorship Letter is an official letter package delivered to the U.S. government by the employer sponsoring the visa. Letters demonstrate a company's need to recruit foreigners when they publish a job opening and ask for applications from people from other countries.
This document has several forms or other files containing information about the employee's hiring and supporting the business's need to hire a non-US citizen. They essentially create a job offer for the prospective employee and send the accompanying paperwork to U.S. Citizen & Immigration Services after that. These documents also assure the firm that the recruitment process is being undertaken voluntarily. The Visa Sponsorship Letters are the name of this group of papers.
The employee must accept an offer from a United States company before continuing. Contracts, travel schedules, a person's qualifications, and other documents are included in this group. It extends to the contract contained in the sponsorship documentation. When applying for just a non-immigrant visa, the Department of Labor must get a labor certification proving that the company was unable to find a suitable candidate domestically. The petition and supporting paperwork are sent to USCIS.
USCIS handles processing the visa sponsorship application after receiving all the required paperwork. Depending on the number of pending lawsuits with USCIS, this takes some time. The processing of an application might sometimes take months. It would inform the company and the employee whether the application is granted or the report is favorable. The employee can begin the real visa application procedure with the U.S. Embassy in their country of residence. The employer and the employee are notified if an application is turned down. Included is the explanation for the rejection, which might be insufficient paperwork or a lack of personnel qualification.
What are the types of visa-sponsorship Letters?
There are two types of visa-sponsorship letters like Non-Immigrant Sponsorship & Work Visa Sponsorship. 
Only in exceptional circumstances where the sponsored individual cannot become a permanent resident or citizen of the United States are non-immigrant sponsorships used. Individuals coming to the country for a short period are eligible for this. It implies that a visa does not lead to eventual U.S. citizenship for holders of non-immigrant visas because they are not qualified for Green Cards. This Visa sponsorship is perfect for you if your employer needs you to travel internationally for a limited time. Unfortunately, this means you can't legally work in the USA without first obtaining an EAD.
The following non-immigrant visas require employer sponsorship, although there are many others. The sponsorship of an employer for a visa is also helpful when applying for a green card or immigrant visa. Those sponsored for an immigrant visa do not need an EAD or their visa to work legally in the United States. This visa will allow you to live in the United States and become an LPR (Legal Permanent Resident). This visa arrangement will allow you to enroll in classes, buy a home, and even apply for a driver's license. There are many classifications for immigrant visas, each serving a specific function.
How Much Does it Cost to Sponsor a Work Visa in the US in 2022?
A Visa Sponsorship typically costs $2900 on average, with the range from $1200 up to $4600. Usually, US employers need to pay to advertise the job position and may have to pay U.S. Citizenship and Immigration Services, plus legal fees. Attorney fees for filing an H-1B petition may cost up to $3500.
To sponsor Work Visa, you need to pay the following  costs:
Visa Application Fee: average around $200 USD
Form I-129 costs $460
Form I-140 costs $700
ACWIA cost (American Competitiveness and Workforce Improvement Act of 1998) costs from $750 up to $1,500
Fraud Prevention and Detection Fee costs $500
Legal fees up to $3000
For employers with 50 or more employees, where 50% of them are foreign, costs are from  $4,000 up to $4,500!
To pay $460 for form I-129, you need to visit the US Citizenship and Immigration Services website:  '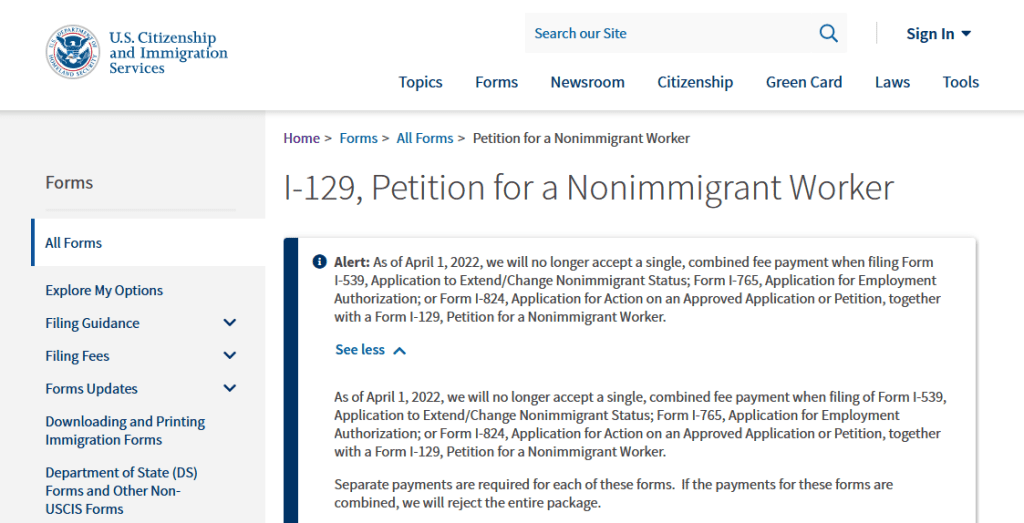 I-140 form you can get here and pay cost of $700:

On another side, potential workers must pay additional legal fees such as translation fees for an employee's foreign-language documents, legal costs associated with obtaining visas for the employee's family members, etc.
Applicants seeking visas and permanent residence may be capable of paying for priority or super-priority services to get their paperwork processed more quickly. For an extra $500, applicants may use the Sponsor License Application Priority Service, which would expedite the processing of their application and provide a decision within 10 working days. Employers who have already chosen a candidate and want to speed up the hiring process, including getting the new employee started, are often interested in this service.
The typical visa processing time varies depending on the visa sought, the country, and the service center. Application processing often takes a few weeks to a few months.
How many years is the USA Sponsor visa valid?
The non-immigrant work visa's validity period may vary depending on your visa type. Some, like the H-1B visa, are only good for a year at a time, while others may be three years. To avoid overstaying, you must verify the information on your visa.
Obtaining a visa and a sponsor are challenging processes. You can plan your trip once you have received your visa. You can begin working as soon as you get to the U.S. However, the validity of a non-immigrant work visa is only transitory. It implies that it will expire eventually. The visa sponsorship may have a limited lifespan depending on the kind of visa you are using. For instance, obtaining an immigrant visa is a long-term fix. It implies you have a green card with a 10-year validity period and limitless renewals after that. If you have lived in the country for five years, you can also apply for permanent citizenship.
On the other hand, the duration of a non-immigrant visa varies based on the category and might be either 1 year or three years. The employer may again submit an extension request to the USCIS as the visa sponsorship expires. But in this instance, you can only renew the sponsorship a maximum of twice or three times. The immigrant work permits are also perpetual. After receiving these visas, you are granted a green card. The Green Card is renewable indefinitely and has a 10-year validity period. You can also seek U.S. citizenship after five years of residing and working there.
Conclusion
Sponsorship for an employment visa is not inexpensive. Particularly to the employer in the United States, who must foot most of the bill. The price tag for sponsoring a foreign worker's visa might reach several thousand dollars. Employers are apprehensive about doing it since it is so pricey. The fees vary depending on the kind of visa.