With the advancement of technology, many grocery stores now offer the convenience of self-checkout. However, for those who rely on government assistance for food purchasing, commonly known as the Supplemental Nutrition Assistance Program (SNAP), or the Electronic Benefits Transfer (EBT), there may be uncertainty around whether EBT can be used at self-checkout. The good news is that using EBT at self-checkout is indeed possible.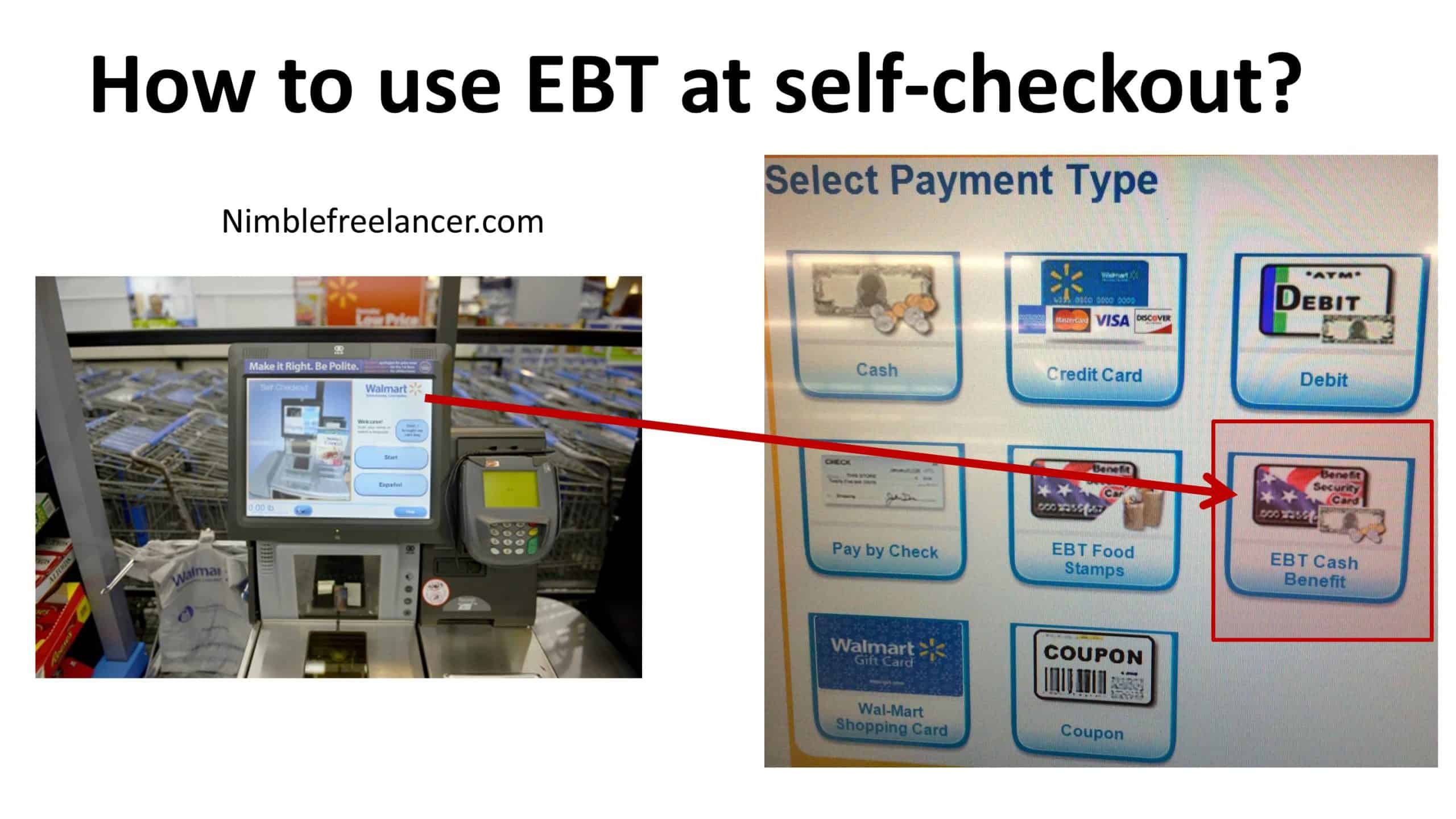 Please visit our article to read how to use EBT With Walmart Scan and Go.
Can You use EBT at Self-Checkout?
Yes, you can use EBT at Self-checkout, but you must use EBT before paying. The machine will have a slot where you can insert your EBT card. This slot is usually located on the right-hand side of the machine.
With EBT, there are regulations in place that separate food purchases from non-food purchases, such as cash or debit items. These regulations are programmed into registers and self-checkout machines, so there is no need to make separate purchases. However, it is essential to note that when paying at self-checkout with both EBT and other payment methods, the EBT card should always be used first.
EBT transactions at self-checkout work similarly to regular transactions. First, the card is swiped or inserted, and the user will be prompted to enter their Personal Identification Number (PIN). Once the PIN is entered, the machine will ask the user which items are being paid for with the EBT card. Selecting only eligible food items is essential, as non-food items will be declined.
List of US stores where you can use an EBT card on self-checkout:
7-Eleven (limited locations)
Albertsons
BJ's Wholesale Club
Costco (limited places)
Dollar General (limited locations)
Food Lion
Fred Meyer
Giant Eagle (lanes and app)
Hannaford
H-E-B (lanes and app)
Hy-Vee
Kroger (lanes and app)
Mariano's
Meijer (lanes and app)
Publix (app and limited lanes)
Raley's
Safeway
Sam's Club (lanes and app)
Save Mart Supermarkets
Shoppers
ShopRite
Target
Walmart
Whole Foods (limited locations)
Winn-Dixie
Keeping track of the available EBT balance ensures enough funds to cover the intended purchase. This information can be obtained by checking the balance at an ATM or online.
How to use EBT at self-checkout?
Here's a step-by-step guide to using EBT at self-checkout:
Start by selecting the "EBT" payment option on the self-checkout screen. This option is usually located next to other payment options like "credit," "debit," and "cash."
Next, scan the items you want to purchase. An item eligible for SNAP benefits will be labeled with a special tag or symbol. Remember that not all food items are eligible for SNAP benefits, so check the eligibility of the things you want to purchase before scanning them.
Once you've scanned all your items, the self-checkout screen will display the total amount due. If you have enough funds on your EBT card to cover the entire purchase, you can proceed to pay. If not, you can use another payment method, like cash or a debit card, to cover the remaining balance.
When paying, it's essential to use the EBT card first. This ensures that the system deducts the correct amount from your EBT balance. If you use another payment method first, the system may be unable to differentiate between SNAP-eligible and non-eligible items, and you may end up paying more than you intended.
Once you've swiped your EBT card, the system automatically deducts the SNAP-eligible items from your EBT balance. The remaining balance, if any, can be paid using another payment method.
It's worth noting that some retailers may have specific guidelines for using EBT at self-checkout. For example, some stores may require you to scan your EBT card before scanning any items. Others may require that you only use self-checkout for SNAP-eligible items and make non-eligible purchases at a regular checkout lane. So be sure to check with the retailer before using EBT at self-checkout to avoid confusion or issues.
Using EBT at self-checkout offers many benefits. It can save time, avoid long lines, and provide a more comfortable shopping experience for those who may feel embarrassed or stigmatized using EBT at a traditional checkout lane. It can also serve as an educational tool for those who may not be familiar with using EBT.
There are, however, some potential drawbacks to using EBT at self-checkout. For example, technical difficulties may arise, resulting in delays or an inability to complete the transaction. Another possible issue is the lack of human interaction, making it difficult for those needing assistance or having questions about their EBT benefits.
In conclusion, EBT can be used at self-checkout if the user follows the proper procedures and selects eligible food items only. While there may be some challenges, the convenience and privacy of using EBT at self-checkout outweigh the potential drawbacks. EBT at self-checkout provides a valuable option for SNAP recipients, making their shopping experience more efficient and comfortable.