Cakes are a staple of celebrations and special occasions in the United States. Cakes can range in price from affordable to extravagant, depending on where they're procured. However, no matter the cost, cakes in the United States are typically known for their delicious taste and quality ingredients. From traditional scratch-made cakes made with butter, sugar, eggs, flour, and cream to modern vegan creations containing alternative ingredients like almond milk, coconut oil, and apple cider vinegar, prices vary significantly between these recipes.
In addition to the type of cake being purchased, other factors such as size, design complexity, or custom requests from bakery customers will also be reflected in the final cost. Many bakeries offer different package deals for custom orders for events like weddings or birthdays which can help customers save money while still receiving a delicious, high-quality cake that meets their individual needs. Regardless of budget restrictions or dietary preferences, all Americans can enjoy whatever type of cake they choose – with peace of mind knowing that it will taste just as good as it looks!
This article will analyze the price and taste of the best grocery store cakes. We will analyze from the personal finance standpoint.
Which Grocery Store Has the Best Cakes?
The best grocery store cakes have Whole Foods Market because of their flavor, ingredients, and overall quality. Whole Foods Market offers cakes with unbleached ingredients, unbromated flour, cage-free or better eggs, and no hydrogenated fats or high-fructose corn syrup.
For me, the best cakes have Whole Food Markets because cakes don't have to contain any artificial flavors or preservatives. Additionally, for me, these cakes are not too sweet as well.
My favorite cake, Chocolate Ganache Cake, costs $26.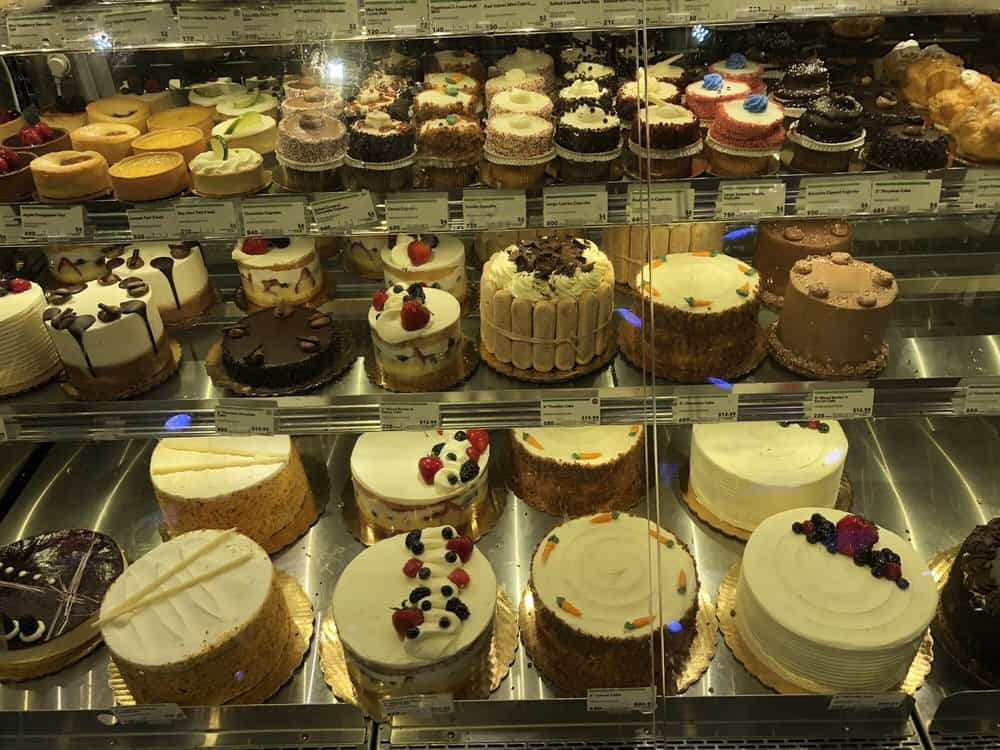 Whole Foods Market is a well-known grocery chain that offers various delicious cakes. Whether you're looking for something traditional or unique, Whole Foods has everything. From classic layer cakes to specialty vegan and gluten-free creations, the company satisfies everyone's sweet tooth.
The prices of Whole Foods cakes vary depending on their size and type. For example, an 8-inch round chocolate cake costs about $25, while an 8-inch round vegan cake costs about $45. Specialty cakes like wedding and birthday cakes cost around $6 per serving, with a minimum order of 10 servings.
When it comes to taste, there's nothing quite like a cake from Whole Foods Market. Their cakes have only the finest ingredients and never contain artificial flavors or preservatives. The store took great pride in producing top-quality desserts with moist layers of cake filled with smooth buttercream frosting and topped off with delicious decorations like sprinkles, nuts, and fresh fruit. Whether it's a classic vanilla pound cake or an extravagant creation such as an Italian Rum Cake or Banana Hazelnut Cake, customers can always be sure they are getting the best when they purchase one of Whole Foods Market's delectable treats.
Whole Foods also offers catering services for special events such as weddings and birthdays so that customers can have their unique signature dessert created just for them. The store will work closely with customers to custom design their dream cake while staying within budget constraints if necessary. Furthermore, they will deliver the finished masterpiece to the customer's door!
For those who want to take home one of these beautiful works of art without ordering catering services, Whole Foods also offers pre-made cakes expertly decorated by the store's talented pastry chefs. These cakes come in many shapes and sizes, including regular round cakes and tiered designs for larger gatherings such as graduations and anniversaries. They also come in numerous flavors ranging from simple classics like Chocolate Fudge Cake to playful options such as Caramel Apple Upside Down Cake – allowing customers to choose something special for each occasion!
In conclusion, when it comes to finding great-tasting cakes at reasonable prices, no one does it better than Whole Foods Market! With its diverse selection of traditional favorites and unique pieces alike, there is something for everyone here – no matter their tastes! And when paired with attentive customer service and delivery options, this beloved grocer will surely make any event even sweeter!
Walmart Grocery store Cakes
Walmart Cakes: The Perfect Combination of Cost and Taste Quality
The range of cakes available from Walmart is extensive and varied. From basic sheet cakes to multi-tiered wedding cakes, there's something for every occasion. Prices range from as little as $10 right up to over $100 depending on size and complexity, but even on their pricier designs, they still offer excellent value compared to other bakeries. Their selection is great, too, with many flavors, including traditional favorites like vanilla, chocolate, or marble, and adventurous options such as red velvet and white chocolate raspberry.
My taste, I wouldn't say I like Walmart cakes a lot because they are too sweet. However, they have excellent decoration and affordable prices. On average, Walmart's eight-inch round cakes cost around $13, while Full Sheetserves 96 is about $43.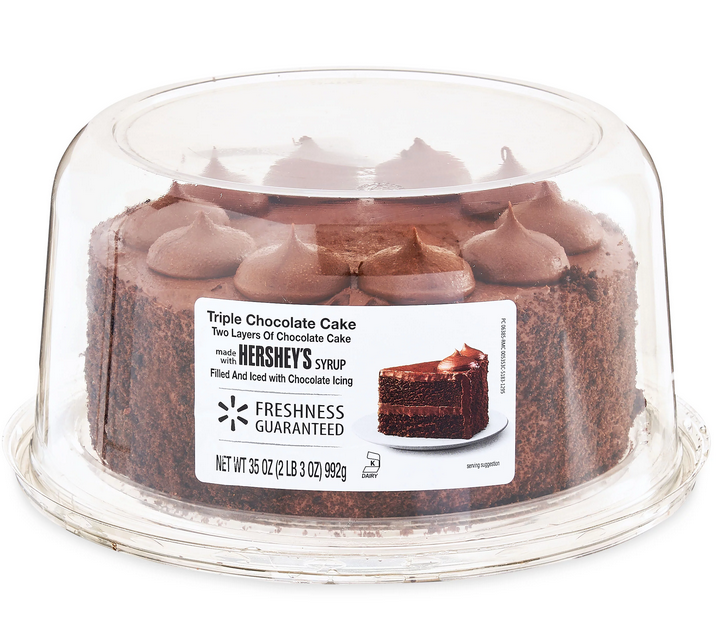 But what about the taste quality? Walmart's bakers are renowned for their skill in creating moist yet fluffy sponge layers and decadent creamy fillings that combine perfectly to create a delicious masterpiece! Whether it be their signature cream cheese frosting or simply a dusting of cocoa powder, each cake is made with care using only quality ingredients, so you can rest assured you're getting exactly what you're paying for – deliciousness!
As well as having excellent taste quality, Walmart cakes have some other advantages too. Firstly, they offer a fantastic variety of decorations, from fresh flowers adorning lavish tiered creations to simple yet effective designs like photo-topped cupcakes – whatever takes your fancy! Secondly, they also provide peace of mind due to strict health and safety regulations being followed by all staff, meaning that you can enjoy your cake without worry, knowing that it has been prepared safely in clean conditions. Finally, they also guarantee satisfaction – should anything go wrong with your order, they will work hard to correct it, ensuring complete delight when it finally arrives!
Kroger Grocery store Cakes
Kroger cakes promise to be a delightful treat for any special occasion or just for fun. Not only do they offer a wide range of flavors in delicious cakes, but their prices are also quite competitive. Whether you're looking for something grand and elaborate or a simple two-tier cake, Kroger has options that fit any budget.
Regarding the cost and quality of Kroger cakes, the store delivers. A 6-inch double-layer round cake with buttercream icing starts at just $18 and serves eight people. For more significant events, you can choose from 11 different sheet cake sizes available in either chocolate or white cake with buttercream frosting that feed up to 96 people and start at just $14.99!
What's more, these prices come without compromising on taste. Many customers have commented on how moist and flavorful the cakes are; some even rave about them being better than those at specialty bakeries. These delicious desserts feature layers of rich chocolate cake, creamy buttercream frosting, smooth ganache fillings, crunchy cookies, cream filling, and sweet fondant decorations – endless possibilities!
Who has better cakes, Walmart or Kroger?
Walmart's white and chocolate cakes are unique and best-selling cakes. Kroger's birthday cake has excellent design and flavor. Whole sheet cakes are between $40-$45 at Walmart and Kroger.
In addition to their affordable prices and exceptional taste quality, Kroger offers additional services such as custom printing on your cake with an image or message of your choice for an extra fee. You can also pick up pre-made cupcakes from participating stores at just $1 per cupcake – perfect for smaller gatherings when you don't need a full-sized cake.
To summarize, Kroger cakes offer exceptional value for money regarding price versus taste quality ratio. Their selection includes a variety of deliciously moist cakes in different sizes that start from as low as $14.99 – making them excellent options for any budget event or celebration!